Keystone helps out Cassie + Friends
June 20, 2018
by Janaya Fuller-Evans / Burnaby Now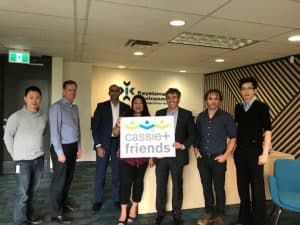 Keystone Environmental is giving back in a big way, helping a Vancouver-based charity that helps kids and their families deal with juvenile arthritis and other rheumatic diseases.
The Burnaby environmental firm is giving $25,000 to Cassie and Friends, a grass roots charity started by the parents of a child with juvenile arthritis. Ten thousand of that is one-third of the $30,000 the company is donating to three charities for its 30th anniversary.
Celebrating Keystone Environmental's 30th Anniversary
February 1, 2018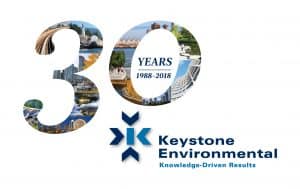 30 years ago, Keystone Environmental had one Canadian employee (Bill Donald) and occupied a single office in the Koppers International Canada Limited offices on Shellbridge Way, Richmond. Initially, Keystone Environmental pursued business opportunities not only in the Metro Vancouver area, but throughout BC, and into Alberta and Ontario and in the western United States.
Focusing on people and performance, Keystone Environmental has grown to 95 employees and is a trusted partner to our clients across Canada, managing various environmental requirements of resource and development projects.
"Thank you to all of our staff and clients who have helped, supported and contributed to Keystone over the years! We are excited to reach this milestone and look forward to the continuing growth we see in the future." Raminder Grewal, President., "We are excited for the next 30 years."
2018 Canada's Best Employers for Recent Graduates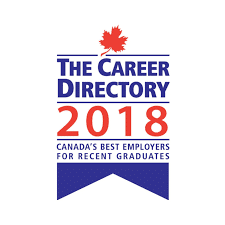 Keystone Environmental Ltd. has been selected for The Career Directory, our guide to entry-level recruitment for recent college and university graduates.
Published annually since 1992, The Career Directory is Canada's longest-running and best-loved career guide for new graduates. Each year, the editorial team at the Canada's Top 100 Employers project reviews thousands of employers to determine the academic qualifications they actively seek in younger job-seekers. The result is a wonderful resource that helps new graduates find student jobs that make the most of their university degree or college diploma.
New Contaminated Land-Rules Affect Mixed-Use Projects
February 2, 2018
Western Investor
A movement towards mixing residential into the redevelopment of old commercial and industrial sites has become more challenging after an update to B.C.'s contaminated-site regulations.

The new rules came into affect November 1, 2017, and cover any B.C. development that has not achieved a certificate of compliance from the B.C. Ministry of Environment.
"[The new regulations] are likely to add further delays and costs for property owners and developers seeking to develop, purchase or sell land deemed polluted," Avison Young noted in its Fall 2017  Metro Vancouver Industrial Overview report  on the subject.
Overall, the new regulations are meant to streamline the cleanup of polluted sites, said Jason Wilkins, a contaminated-sites approval expert with Hemmera Envirochem Inc. of Vancouver.
"[Most] developers should not face further delays," Wilkins said, noting that contaminated site cleanups in Vancouver date back to the sale of the Expo lands more than 30 years ago. "The process is the same, only some standards have changed."  Read More….
New Keystone Environmental Shareholders
January 6, 2017
Keystone Environmental Ltd. (Keystone Environmental) a privately-owned, British Columbia based environmental consulting firm, announces that 5 exceptional employees have become Keystone Environmental's newest shareholders. These individuals were selected because of their business acumen, integrity, and cooperative team spirit.
"We're proud to have these five talented and hardworking individuals join our ownership team," says Keystone Environmental President Raminder Grewal. "They have all proven to be excellent performers and have made significant contributions to our clients business needs. I'm certain they will continue to be key contributors to the growth of our company. Our missions is Focusing on people and performance, we will be the Go-To Environmental Consulting Firm. Our dedicated team members enable us to take another critical step towards achieving our mission."
At Keystone Environmental, we know that the purpose of each project is to support our client's business plan. Understanding how our work fits into the overall business plan enables Keystone Environmental to drive our work towards fulfillment of that purpose. Our newest shareholders will continue to make a difference for our staff and clients.
---
New Shareholders
Bill Donald remains a Director and Chairman of the Keystone Environmental Board ensuring continuity and continuing engagement with clients, management and staff of Keystone Environmental. Raminder Grewal will continue as President and the senior executive of the firm. Francisco Perello will continue his role as Director of Transportation.
These changes will enable us to continue to provide quality and solutions oriented services to our clients while maintaining a niche high energy culture that our clients expect.
Keystone Environmental Employee Wins "Emerging Environmental Professional" Award at EMA of BC Gala
June 16, 2017
Keystone Environmental is proud to announce that Alice Kruchten was awarded the Environmental Managers Association (EMA) 2017 Emerging Professional Award last night at the Annual EMA Awards Gala.
Alice is a UBC Civil Engineering graduate who began as a co-op student at Keystone  Environmental. She has advanced her professional skills from initially completing basic field monitoring tasks and data management to become a coordinator of field and engineering programs, detailed design of remedial systems and management of her own projects. In her current role, Alice works on complex design projects with multiple constraints and stakeholder inputs. She returned to UBC in 2016 to complete her Masters of Engineering Leadership (MEL) in Integrated Water Management Engineering.
Alice has been working for Keystone Environmental Ltd. for five years. She has gained knowledge in storm water management, wastewater treatment plant design, landfill cap design, remedial systems design and installation oversight, contracts and tendering, project management and scheduling, contractor supervision, client interaction and engineering design principles.
Alice has volunteered for several years with Engineers Without Borders Canada (UBC Chapter) to promote the application of engineering and leadership skills in international development to create lasting systemic change at home and abroad. She has also volunteered with the Tetra Society of North America, building custom assisted devices for persons with disabilities and mobility challenges. She was awarded the Sam Sullivan Award in 2012 for design/build of a wheelchair accessible crib.
We congratulate Alice on the recognition by her peers and look forward to being a part of her continuing professional development.
Metro Vancouver Industrial Market under Pressure as Rising Costs, Low Vacancy Redefine Expectations
Fall 2017
Avison Young
Metro Vancouver's rapidly expanding industrial market has continued to record robust and rapid increases in absorption, lease rates and pricing during the past 12 months against a backdrop of near-record low vacancy, changes in government, rising interest rates and swelling construction and land costs.

Industrial vacancy in Metro Vancouver was 1.6% at the end of the third quarter of 2017, down slightly from the 1.8% recorded 12 months earlier. Vacancy continued to tighten further in 2017 despite the addition of 3.1 million square feet (msf ) of new inventory. Metro Vancouver's industrial market has consistently expanded on an annual basis in recent years as vacancy has continued to decline.
Read More….
2016 Environmental Managers Association (EMA) Award for Remediation and Restoration
June 16, 2016
Fellowship from Engineers Canada
Keystone Environmental won the 2016 Environmental Managers Association (EMA) Award for Remediation and Restoration for the Lawson Foreshore Enhancement Project.

The project was performed for the District of West Vancouver and consisted of raising the foreshore between Ambleside Pier and Lawson Pier in West Vancouver by 1 m to reduce flooding of Lawson Park during King Tides. Work was accomplished by using soil from another construction site at the West Vancouver Municipal Hall and placing the soils under the shoreline with a protective cap of the existing native shoreline material. The project was successful in improving the shoreline topography and habitat conditions in consideration of potential sea level rise. Media coverage of the works included airtime on CTV news in January.
The project team consisted of a coordinated effort between Keystone Environmental's biology and engineering departments (Warren Appleton, Mark Sessions, Erika Paradis, Dave Langill, Krista Morden, Jeff Thorlacius, Barry Warren, Thuy Wong, Robert Porter) and its extended team; Integrated Planning and Consulting provided construction supervision and Headwater Management was the contractor performing the works.
Keystone Environmental would like to thank the District of West Vancouver for their hard work throughout the project. In particular, we would like to thank the Manager of Environment and Sustainability Sandra Bicego and her colleagues for their support in making this project a success. We would also like to thank the participation and input provided by all 3rd party consultants, stakeholders, and regulatory agencies throughout the process.
Congratulations to everyone on a job well done.
Bill Donald Awarded Fellowship of Engineers Canada
March 12, 2015
Fellowship from Engineers Canada
Keystone Environmental is proud to announce that on Thursday, March 12, 2015, our CEO, Bill Donald will be awarded a Fellowship from Engineers Canada. The fellowship honours individuals who have given noteworthy service to the engineering profession through their work with either Engineers Canada or its provincial and territorial engineering regulatory bodies.

Bill graduated from the University of Manitoba's Civil Engineering program in 1973 and received his M. Sc. in engineering in 1975. He has spent most of his career in environmental consulting, working in Canada and the US. In 1988 he established Keystone Environmental in Canada where he is now CEO. Bill has been volunteering with APEGBC since the early 1980s as well as with other business and non-business organizations including the Urban Development Institute, Mortgage Investment Association, Lambda Alpha – a land economics society, and the Richmond Country Club where he is a member of the Board and the Executive. In the late 1990s he worked with the MOE and APEGBC to establish the Roster of Approved Professionals and later was appointed to the Board of the Contaminated Sites Approved Professionals society.
Engineers Canada has created this Fellowship to identify and recognize individuals who have contributed significantly to the profession of engineering, and to create a group of people who continue to contribute to and advance recognition of the profession of engineering.
Congratulations Bill! We couldn't be prouder.
Positive Change, Positive Profits
June 27, 2016
TEC Canada

There is no question that Raminder Grewal, President of Keystone Environmental Ltd, is a change agent. Being named on Business in Vancouver's Top 40 Under Forty and receiving the Queen Elizabeth II Diamond Jubilee Medal in 2012 are a testament to his dedication, leadership, and hard work. "I always make sure to give things my all, I don't want to do anything halfheartedly," he states.
With an aptitude for math and physics, Raminder pursued engineering at the University of British Columbia. In his first year, engineering professionals were brought in to the University to talk about their respective fields. "A geological engineer spoke about environmental engineering being a growth field and the concepts interested me, so I decided to pursue geological engineering with an environmental engineering option," he recalls. Read More….
Business in Vancouver's Forty Under 40 ~ Raminder Grewal
December 9, 2013
Business in Vancouver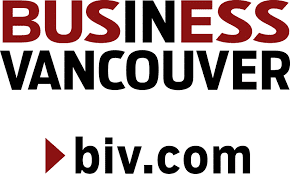 Despite a highly competitive marketplace crowded with global and national engineering firms, Burnaby's Keystone Environmental has continued to grow since Raminder Grewal became the youngest partner of the firm.
Under Grewal's leadership, the firm has seen revenue grow by 30%, stemming from continued expansion in the company's business of providing environmental consulting for government and private sector clients all over the province and Canada. Read More….