Burns Bog, located in Delta, BC is the largest peat bog in Western Canada (Photo Credit: Nathan Bendriem)
by Nathan Bendriem, Junior Biologist
In British Columbia, wetlands make up about 5.28 million hectares, or 5.6% of the land mass. Simply defined, wetlands are just that- an area of land that is wetted for part of the day or a part of the year. There are a variety of wetlands with different compositions of flora and fauna, but they all share general characteristics. These include poorly drained soils, hydrophytic (water-loving) vegetation, and various kinds of biological activity which are adapted to a wet environment. Unfortunately, information on the status of wetlands is incomplete and historically, wetlands were undervalued and their services unrecognized, leading to the loss and degradation of wetland ecosystems. It is believed that in the more populated southern part BC, 60-98% of the original wetlands have been drained and filled. In the less populated northern and central regions of the province, significantly greater amounts of wetlands remain.
Role of wetlands
No matter the type, wetlands play an important role in the environment and provide important services to the public.  Wetlands found along rivers and streams absorb and store water during storms or freshet, stabilizing water levels and reducing downstream flood damage.  When the rain subsides, the stored water is slowly released, providing sustained stream flows when drought conditions are present. The vegetation found in wetlands can filter out sediments and absorb pollutants found in surface and ground water, resulting in a cleaner ecosystem. The abundance of hydrophytic vegetation slows down the erosion of streambanks by providing more structure and stability.
Wetlands are one of the most productive ecosystems on the planet. Several species of amphibians, reptiles, birds, mammals, freshwater and marine fish rely on wetlands for habitat.  Fish will use wetlands to escape predators, and feed and grow before migrating to larger bodies of water.  Waterfowl build nests and rear their young in wetlands, and the habitat acts as a rest stop for many species of migrating birds. In fact, the wetlands of the Fraser River Delta support the highest winter densities of waterbirds, shorebirds, and raptors in all of Canada, with up to 1.4 million birds using the delta during peak migration period.

Wetlands, such as this marsh located in Alert Bay, BC contain several species of trees and plants.
(Photo Credit: Nathan Bendriem)
Environmental Stewards
Wetlands play a very critical role not only for the natural environment but for populated communities as well, by slowing down the effects of climate change. Wetlands, especially peat bogs, break down organic matter very slowly without using oxygen. Any carbon stored in bog vegetation, such as mosses, remains in the soil as organic carbon instead of being released into the atmosphere as CO2. Next to the oceans, peatlands represent the second most important carbon storage on earth, and the most important one on land.
The water cycle, which provides a pathway for rainwater to make its way to the ocean, lakes, groundwater or soils, is highly dependent on wetland ecosystems.  By maintaining this important natural cycle, wetlands underpin all ecosystem services around the world.
Local Wetlands – Lower Mainland
The Lower Mainland of British Columbia houses several wetlands for enthusiasts to appreciate! Camosun Bog in Pacific Spirit Park is a small peatland that has been the focus of restoration efforts for several years, with reintroduced native vegetation, informative signs highlighting its importance, and a boardwalk allowing for a very pleasant stroll.
Further south is Burns Bog, located in the heart of Delta, BC.  The Burns Bog Delta Nature Reserve is the largest raised peat bog in Western Canada, including over 40 km2 of land with 14 different plant communities, 175 bird species, 11 amphibian species, 41 species of mammals, and 6 species of reptiles. Walking trails on the eastern extent of the nature reserve allow the public to access this unique oasis of wildlife while still preserving most of the bog to serve its natural functions.
Keystone Environmental and Wetlands
For all the reasons described above, wetlands are important ecological features on the landscape that are protected by multiple pieces of legislation including the provincial Riparian Areas Protection Act, Water Sustainability Act, and the federal Fisheries Act. If you have a property containing a wetted feature that may be actually be a wetland, a Keystone Environmental Qualified Environmental Professional (QEP) can assist you in determining what regulatory guidelines may apply.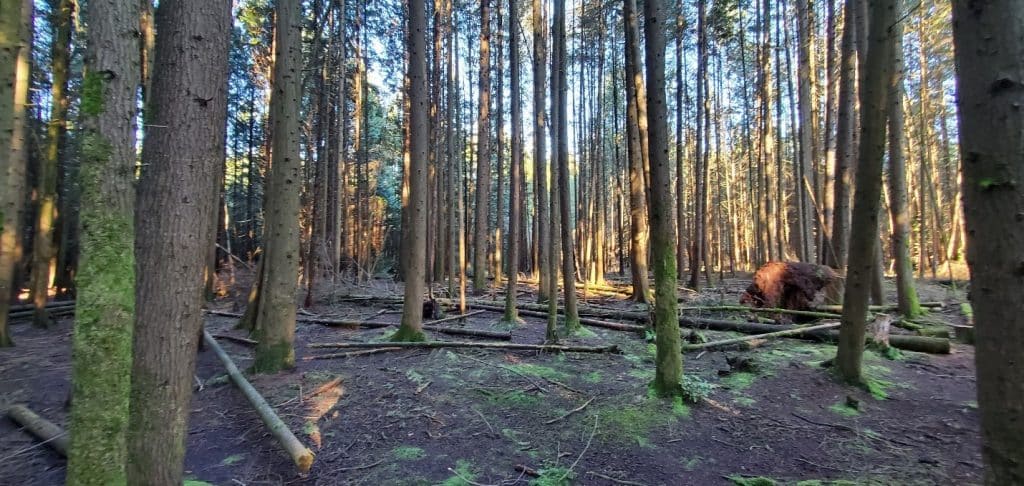 Wetlands, such as this peat bog ecosystem, may not always be wetted but have flora and fauna adapted to a wet ecosystem. (Photo Credit: Nathan Bendriem)