Corrie Allen a fish and wildlife biologist at Keystone Environmental Ltd., is one of six individuals who have been selected from across the province to participate in the 2019 Sustainable Living Leadership Program with the Rivershed Society of British Columbia.
The 29-day journey starts on July 19 at the headwaters of the Fraser River in Mt. Robson, west of Jasper National Park. Over the span of four weeks, participants will travel 1,400 kilometers down the Fraser River by canoe, raft, and foot before arriving at the Jericho Sailing Center in Vancouver on August 16, 2019. Participants come from all walks of life and share an interest in sustainable living, a high tolerance to bugs, and a desire to help shape the future of the Fraser River and the species that depend on it.
Leaving cell reception behind, Corrie and her fellow participants will be fully emerged in the ecology of the river. Over the course of the 29-day journey, participants will live, sleep, and eat on the river's banks, while engaging with local communities to share stories and experiences.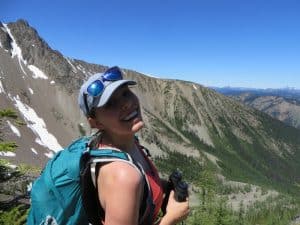 For Corrie, this trip has been a long time in the making. Corrie was expecting to embark on this adventure two years ago after being selected to participate in the 2017 Sustainable Living Leadership Program. However, the devastating forest fires experienced throughout much of British Columbia in 2017 resulted in the trip's cancellation.
"I am really excited everything has aligned to participate this year. It truly is a once in a lifetime opportunity to experience the river we live and work on from a unique and personal perspective."
Corrie hopes to use this experience as an opportunity to better understand how white sturgeon impact people and communities on the Fraser River.
"As a Biologist, I think it is easy to overlook the human-component of the systems and species we study. This trip will provide an avenue to connect with individuals and communities across the river to share our perceptions and stories of white sturgeon."
Corrie is a Registered Professional Biologist who has worked at Keystone Environmental Ltd. since March 2018. She is a key member of our fish and wildlife team, and an active participant in white sturgeon research and conservation across the Fraser River.