Petroleum Storage Tank Emergency Response Plans (Tank ERPs) are designed to swiftly provide pertinent information about the tank, its' contents, and its' surrounding area to personnel for spill response. Petroleum storage tanks on federally regulated properties must abide by the Storage Tank Systems for Petroleum Products and Allied Petroleum Products Regulations under the Canadian Environmental Protection Act (CEPA) by the Canadian Council of Ministers of the Environment (CCME).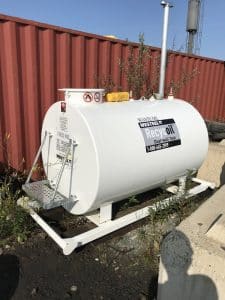 Petroleum storage tanks are required to have an emergency response plan specific to the tank. At this time, provincial regulations for British Columbia governing petroleum storage tanks do not exist, although it is suggested that tank owners follow the CCME regulations. Non-federally regulated businesses that handle, store, or transport petroleum products should have a response plan in place for their tanks to reduce the potential liability that may arise after accidental release of petroleum products.
Storage Tank Emergency Response Plans detail elements of the tank and the surrounding area to help prepare and identify potential locations of leaks or spills. This includes but is not limited to:
Properties and characteristics of the petroleum product
Design specifications of the tank
Detailed description of the tank location and surrounding area
Emergency prevention and response plan
Description of location and contents of emergency response equipment
The objective of tank ERPs are to contain all the relevant material in one location in the event of a spill. Therefore, tank ERPs must be conducted for every petroleum tank on site and must always be accessible.
Spills from petroleum tanks can pose a danger to human and environmental health, as they can cause fire or contamination to soil and/or groundwater. Poor or inadequate spill response can also be expensive for the tank owner. Costs due to spills may include general repair but can be extended to environmental remediation expenses and possibly fines. Many spills can be prevented by proper training, maintenance, and inspection.
Recently, Keystone Environmental completed tank ERPs for 104 petroleum tanks with locations throughout British Columbia, Alberta, and Saskatchewan. Our tank ERPs are tailored to each tank and location, designed to efficiently and effectively layout the required information so that proper steps can be taken immediately in the event of a spill.