Once you have investigated a contaminated site and determine the presence and extent of contaminants, a determination on the preferred remediation option needs to be made. This is where the Keystone Environmental remediation engineers step in.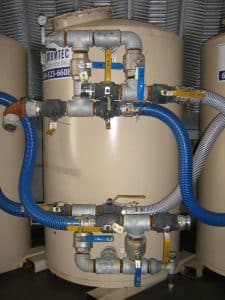 Our team begins by reviewing the background of the site, the Site Conceptual Model, and the site constraints. We ask our client what is the vision for the end state use of the site, who are the stakeholders, and what are their concerns and expectations are for the project. We want to establish the closure criteria or exit strategy by defining the remedial objectives. Two key questions to ask are: What are you trying to accomplish and why are you doing this?  A typical definition of success could be to:
Complete the remediation safely and in compliance with all applicable government regulations;
Achieve the highest potential net value or lowest net life cycle cost;
Minimize future liability exposure;
Community acceptance of the resultant condition of the property; or
All the above.
Once we have a solid understanding of the client's objectives for the project, the technical review can begin. We initially brainstorm potential remedial options for the site and put them through a high level screening. Initial screening can include effectiveness of the treatment, constructability of the system, costs, durability and lifespan, schedule, health and safety, life cycle operations, and financial security. This high level review may identify data gaps or additional questions for the client's strategy. A site visit is conducted to further asses the on-site conditions, off-site conditions, and restrictions.
The remedial technologies list would be refined to the three to five remedial options that best suit the objectives. A general description of these technologies and the pros/cons for the site would be presented. The initial screening list would be refined to the key client evaluation criteria and weighted appropriately. Typical criteria would include life cycle cost, timeline, impacts to existing operations, off-site migration, technical feasibility, stakeholder acceptance. Multiple systems or combination of options may be included depending on the contaminants and media affected. The final presentation of options would be reduced to three and presented with preliminary engineering designs and cost estimates for construction and operation. An engineering summary would rank the options based on the criteria and put forward a preferred option(s) or recommendation, dependent on the client's preferences.
For more information please contact Richard Johns (rjohns@nullkeystoneenvironmental.ca) or Raminder Grewal (rgrewal@nullkeystoneenvironmental.ca).