Photo credit: WorkSafeBC
The National Day of Mourning is observed in Canada on April 28th. It's a day to honor workers and their families who have lost life or have suffered injuries or illness due to workplace related hazards and occupational exposures.
Keystone Environmental places health and safety at the forefront of our work – for our employees, clients, and subcontractors.
To honor this day, our staff have taken a moment of silence to remember the 161 employees who lost their lives while performing their work duties in 2021. We also recommit to hold all management and employees to the highest standards of health and safety in the workplace, so everyone can go home safely every day.
Here is some key information to remember while on the job.
Hazard Analysis, Risk Reduction, and the Hierarchy of Controls
Incident prevention begins with proactive management of hazards and risks. Pre-planning for the safety of the project is a crucial stage for risk reduction to ensure worker safety.
All hazards must be assessed and mitigated prior to engaging in operations. Subsequent hazards identified during the operational process must be addressed immediately. Thus, work must be stopped, the hazards addressed, and then operations may resume.
The most important element to consider when effectively reducing risk of the hazards present, is the Hierarchy of Controls.  Controls are categorized into an order of effectiveness, but they can be used in combination for higher risk reduction.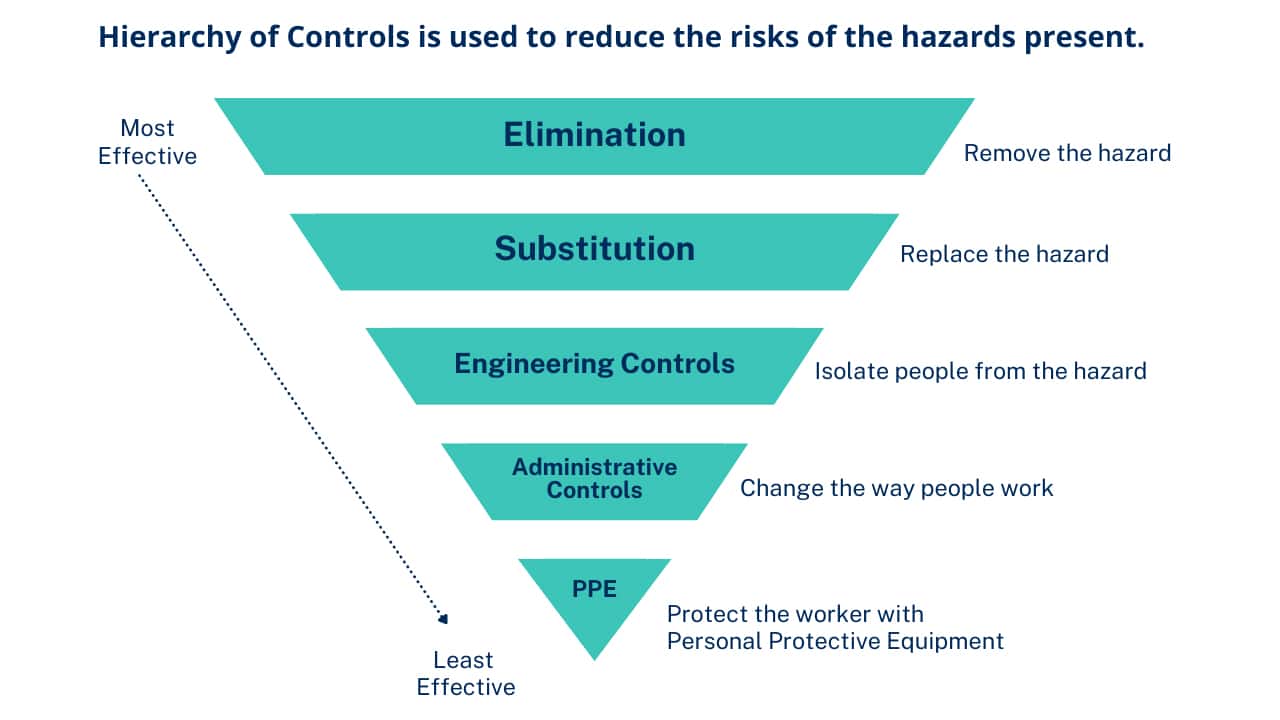 Stop Work Authority and Right to Refuse
Stop Work Authority is a right given to all employees and contractors to stop work when a perceived unsafe condition or behavior may result in an unwanted event. Management's commitment to this process is crucial for employees to fully believe in this right and act when it is deemed necessary. Supervisors and Management must promote a culture where Stop Work Requests are honored, investigated, and resolved before resuming operations.

The ability to refuse unsafe work is not only a right but an obligation. Employees are required to initiate a refusal for conditions or behaviors that threaten danger to person(s), equipment or the environment. Refusals must be taken seriously by the organization and be investigated thoroughly and corrected to reduce the risk to the lowest level. 
A key element of a Stop Work Authority Program is a detailed set of written procedures. They will help ensure that every event works consistently and as intended.
Training and Competency
Employee education is fundamental to protect employees from workplace hazards. Companies must ensure their employees are skilled and competent in the assessment of hazards and risks, and that appropriate safe practices and procedures are implemented. Organizations should question how often they are refreshing their employee's knowledge.
Orientation day is packed with knowledge and learners may not always retain the initial information given to them. Even with training and competency assessments, information can be forgotten. An annual refresher of the basics should be introduced as part of the organization's training program so they can review some of the fundamentals and brush up on new information.
Battling Complacency
Many experienced workers who have been on-the-job for a long period of time are aware of the hazards of the task but tend to be complacent with the risks. It's important to take steps to avoid error by complacency, educate on the risks associated with their task, and ensure appropriate risk reduction measures are being followed by all employees.
More Information
For more information on Keystone Environmental's Health & Safety Program and the relevant work-safe procedures we apply to our projects, please contact Melissa House, our Occupational Health & Safety Manager.